surface
Front. Rear. Dual. 3D. High Gain. Seamless. Perfect.
Our VarioClip® vinyl surfaces can be stretched easily and attached to the frame with our patented QuickClip hooks. The surface has to be perfect mat, seamless and fit accurately to the projected image.
Like all other AV Stumpfl projection screens VarioClip® ships with a variety of different surface types. We are proud that only our proprietary materials meet the global standards of the critical rental & staging industry.
Especially developed. Top quality materials. Processed with care.
AV Stumpfl mobile projection screen surfaces have to meet strict requirements which we defined based on our 40 years of field experience. Beyond our special source materials we have developed our own machinery for PVC welding.
Attachment with QuickClip
The Revolution.
Our patented QuickClip hooks define the core of our new mobile projection screen development. This new surface attachment technique has been engineered and intensively tested for more than 5 years. Among the features of QuickClip surfaces are:
Simple and stress-free attachment
Easiest take-off
Automatic tension distribution
Hook made of glassfibre reinforced material
Integrated spring element to prevent unintended hooking
Anti-reflective rubber coated cover caps
The Standard
In a front projection set up the projector is in front of the projection screen. The surface has to be perfect mat in order to ensure a homogenous image and 100% light proof to prevent distracting effects and to reflect the entire light output of the projector. Please refer to our surface datasheets for detailed technical information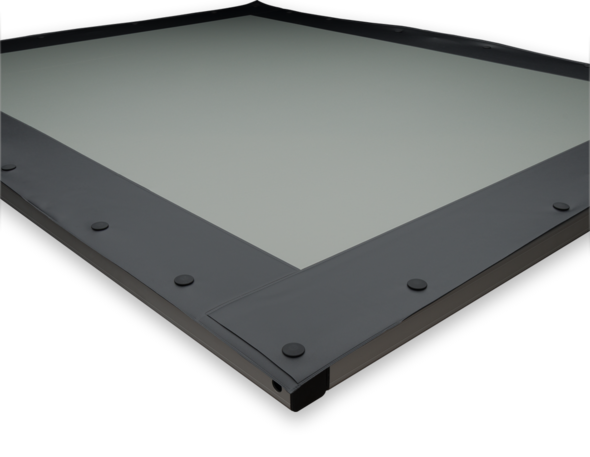 Hidden Technology.
If there is no room in front of the screen for the projector a rear projection surface can be used and the projector be placed behind the projection screen. There are special requirements to the surface material to prevent seeing the light spot of the projector through the material (Hotspot behavior) but to achieve a homogenous image throughout the entire color range of the projector. Please refer to our surface datasheets for detailed technical information
The perfect agreement
If both front and rear projection has to be set up using the same surface a dual projection surface can be used. By trading off some gain, luminance and contrast the picture can be seen on both sides of the projection screen. These materials are also suitable for softedge rear projection set ups. Please refer to our surface datasheets for detailed technical information.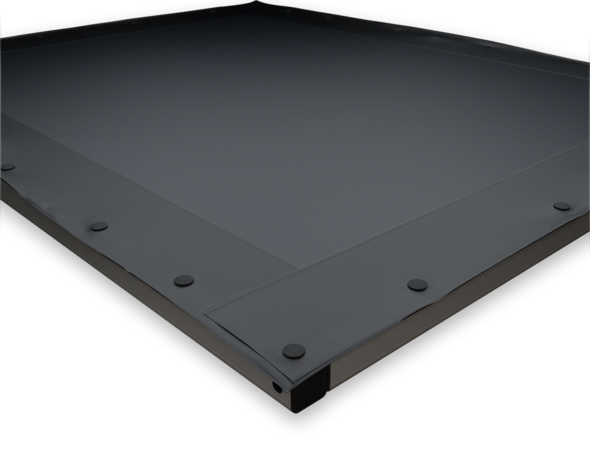 No standard is also a standard.
You want the surface to be black when there is no projection active, the material to meet high gain requirements or you would like to make stereoscopic projections? We do have a variety of different surfaces available to produce your projection screen. Just let us know your requirement and we are here to assist.
Ultra Large Surface. Invisible Seams.
If projection screen height exceeds the source material width multiple parts of surface material have to be welded together using our especially invented welding technique. For special projection set ups and/or close viewing is required the seams can be flattened using our SeamlessOptic technique. Please refer to our surface datasheets for detailed technical information.
BLACK & WHITE
Special demands require special solutions.
By default the border vinyl of our projection screens is matt black. For special applications we can also produce your projection screen with a mat white border material. If this is of interest please do also have a look at our product AV Stumpfl Fullwhite projection screen which might be what you are looking for.