Exhibition and Trade Shows
A lot of companies prefer to present themselves using media technology on their trade show booths. These presentations can include projection on screens or mapping on booth structures as well as interactive experience stations or smart systems for the booth structure itself.
Kuka Robotics
Exhibition Hannover
More information
Kuka Robotics
Exhibition Hannover
More information
What Products and Features are used on Trade Shows?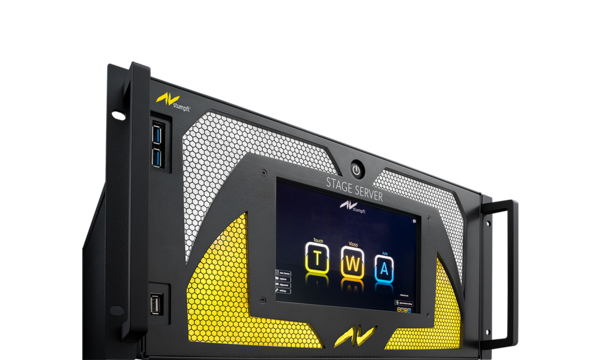 MEDIA SERVERS
Robust. Stable. Powerful. Live. Installed.
A number of different applications ranging from live shows and events to interactive and themed attractions use Media Servers. These devices can do more than just playing back media: They are used for content production and show design, interactive live presentations and control of a variety of different devices and systems. Thanks to our unique Wings Vioso automatic camera based calibration system setting up multi projector arrangements has never been easier.

Learn more about our Media Servers
Automatic Projection Setup
INVIFRAME
Invisible construction system.
Since we needed a better construction system for our own trade show booths we have invented our own since there was no suitable solution available on the market. Based on our product Fullwhite® we have developed a frame system which allows creating walls or cubes and other structural elements with printed materials
FULLWHITE®
Purely the picture.
Have you ever thought of an invisible projection screen? No borders. No depth. Fullwhite makes the picture float in space. This pure design product is very popular for flying screen applications but features numerous different mounting solutions. Multiple Fullwhite projection screens can also be connected to create projected walls or cubes.
MOBILE PROJECTION SCREENS
Small Packing Dimensions. Lightweight. Quick Set Up and Breakdown. Long Lifetime. Mobile.
Have you thought about a display solution which is portable and can be set up by a single person? A Mobile Projection Screen is exactly what you are looking for. In combination with nowadays projector technologies these products are used to create large scale but bright and crisp pictures within shortest time and can be used virtually as often as needed without any maintenance work.
CUSTOM PROJECTION SCREENS
Any Size. Any Aspect Ratio. Any Radius. Any Border. Anywhere.
Are you looking for a projection screen that has to meet some special requirements? Do you want a screen which has enormous dimensions, a curved shape, an extra wide border (or no border) and special mounting options? This is what we call a custom design projection screen and this is what we do every day. During the past 40 years of projection screen manufacturing we gathered quite a lot of experience in terms of what is technically possible and what should be done in a different way.
PROJECTORS AND DISPLAYS
Premium quality third party products.
We have close relationships to the leading manufacturers for digital projectors and displays and our experienced team can give advice for choosing the right devices for your application.
FHD PLAYER
Solid state media playback.
Have you ever dreamed of a tiny solid box which can seamlessly loop media contents stored on a SD card or USB storage? We have already developed this cost effective solution for digital signage projects, museums and other themed attractions. FHD Players can be synchronized via Ethernet, externally controlled and for example trigger media based on GPS input coordinates.
Learn more about our FHD Player
There to assist.
Are you looking to find the best solution for your requirements? Do not hesitate to contact our product specialist team to discuss your projects. Our product line up is wide and our field experience huge. We are ready to help you finding the optimum solution.