Laser projections at the Krone TrailerForum
Laser projections at the Krone TrailerForum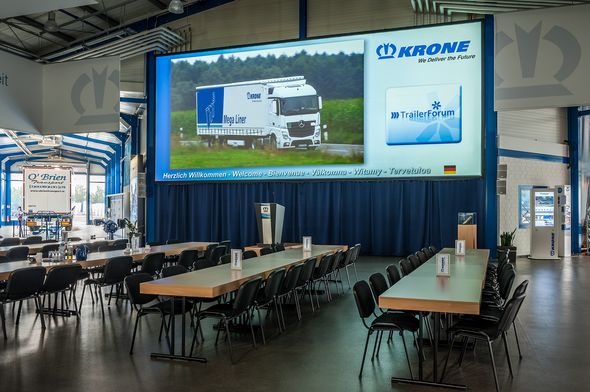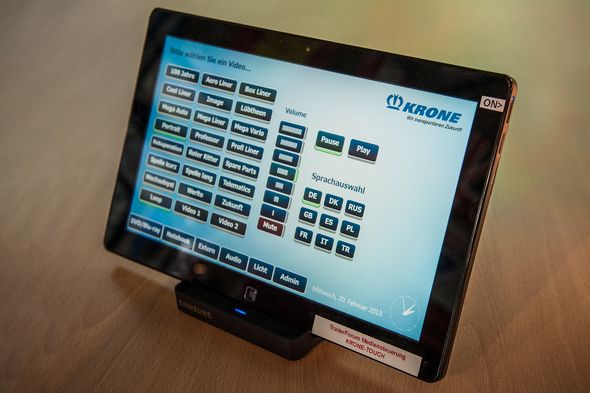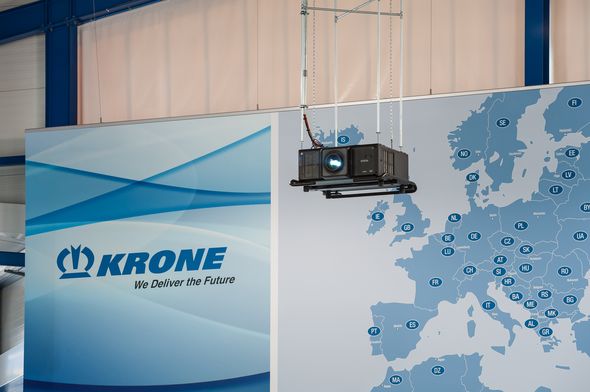 Since 2013, visitors to the Krone TrailerForum have been able to enjoy panoramic projections on a beautiful custom made 11.2 x 4,5 meter AV Stumpfl Vario projection screen.
Until recently, this setup contained two XGA-projectors that projected a softedge panorama with a resolution of 1898 x 768 pixel. Changing the lamps and re-adjusting the image regularly proved to be both cost and labour intensive however. Each time, a total of eight lamps needed to be replaced. Due to the aging differences between the lamps, both the brightness and the colour temperature oft he projected images soon began to not match properly anymore.
After consulting with QuattroVision's Dieter Hartmann and testing different concepts, Krone decided to use a single powerful projector in the future.The final choice fell on the new Epson EB-L25000, a laser projector with 25.000 Lumen, offering a 20.000 hour maintenance free running time and a five year warranty.
In terms of pixel resolution, the new projector offers WUXGA and so called pseudo-4K. Tests showed that the Pseudo-4K mode would indeed provide substantially more image details than would be visible when using Full-HD. A UHD signal was played out via an AV Stumpfl media server for this purpose. The complete resolution of the panorama images is 3840 x 1578 Pixel.
In emergency mode, the image can also be scaled to a 16:9 ratio, or in case the images have to fed tot he projector without using the server. All lens parameters like zoom, focus and shift can be saved and recalled at any time, which works very well due to the built-in multiphase motor.
The complete installation was programmed using an Avio system, which allows for a user friendly touch panel control solution, with predefined control presets.
The Krone TrailerForum team now enjoys the hassle free and maintenance free operation of their updated projection solution, delivering beautiful image quality.